2016 Season – FIRST Stronghold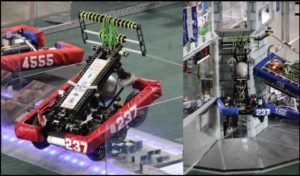 Game Description: FIRST STRONGHOLD

is played by two alliances of three teams each. Alliances compete against each other to breach their opponents' defenses, known as outer works, and capture their tower. They score points by crossing elements of their opponents' outer works, scoring boulders in their opponents' tower goals, and surrounding and scaling their opponents' tower itself.
Game Animation: https://www.youtube.com/watch?v=VqOKzoHJDjA
Robot Description: Team 237's robot was built on a 6-wheel drive system powered by dual speed transmissions. This drive system had wheels large enough that it could climb over any of the defense on the field with ease. Mounted to the robot was an arm that captured boulders, shot boulders and could extend and lift the robot to scale the opponent's tower.
Events:
Palmetto Regional
NE District – UNH Event
NE District – Hartford Event