2008 Season – FIRST Overdrive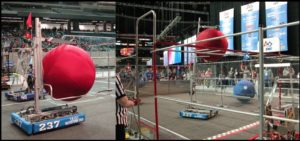 Game Description: In the 2008 game, "FIRST Overdrive," students' robots are designed to race around a track knocking down 40″ inflated Trackballs and moving them around the track, passing them either over or under a 6'6″ overpass. Extra points are scored by robots positioning the Trackballs back on the overpass before the end of the 2 minute and 15 second match.
Game Animation: https://youtu.be/D5oL7aLH0T4?t=15s
Robot Description: Team 237's robot was designed with a 6 wheel drive system that was powered by dual speed transmissions. Mounted on top of the robot was an elevator arm that moved vertically. This arm was a mounted onto rails that allowed it to move from the front to the back of the robot. This maneuverability allowed the robot to pick up the ball from the floor, contain the ball on the robot, raise it up and launch it over the overpass.
Events:
Philadelphia Regional
Connecticut Regional
FIRST Championship